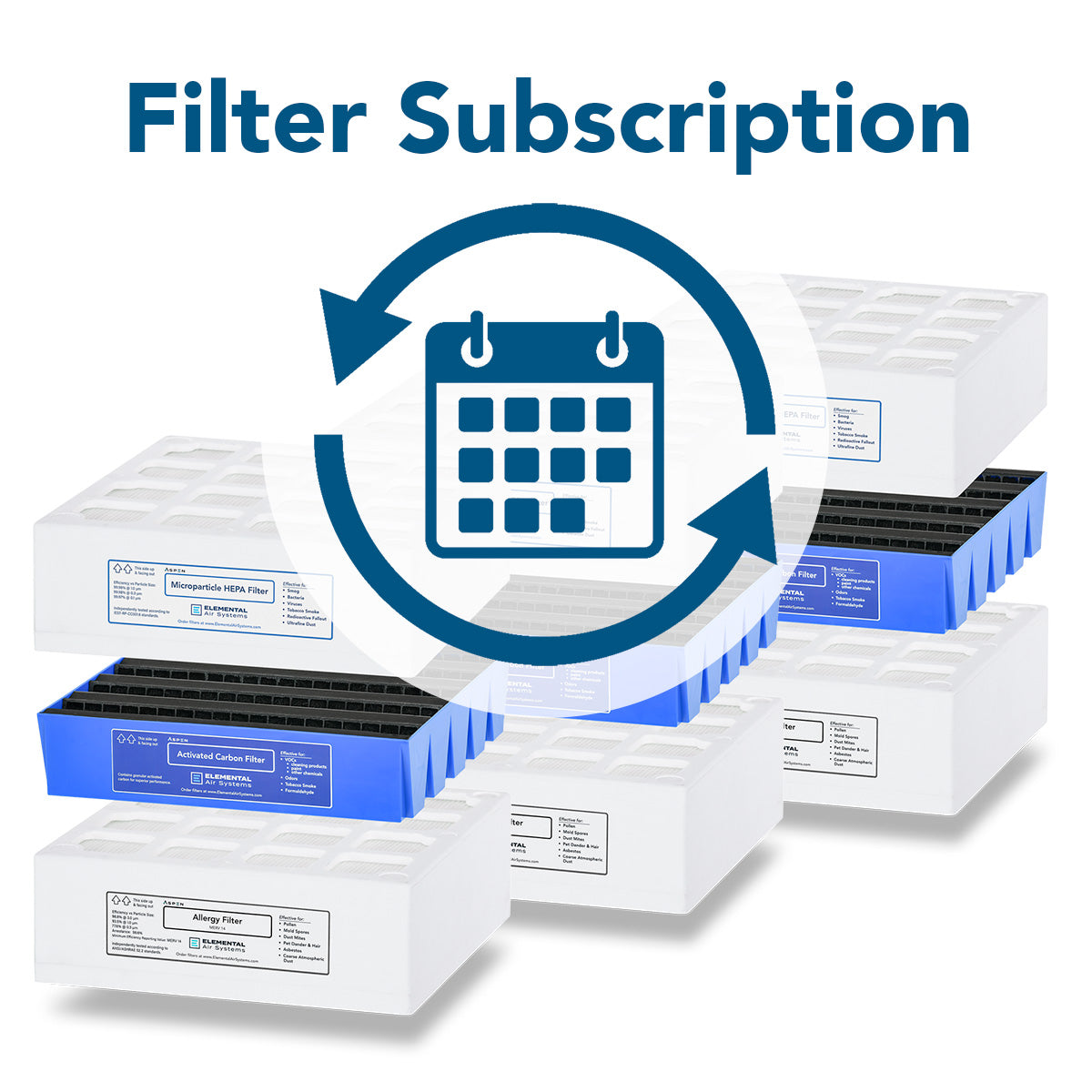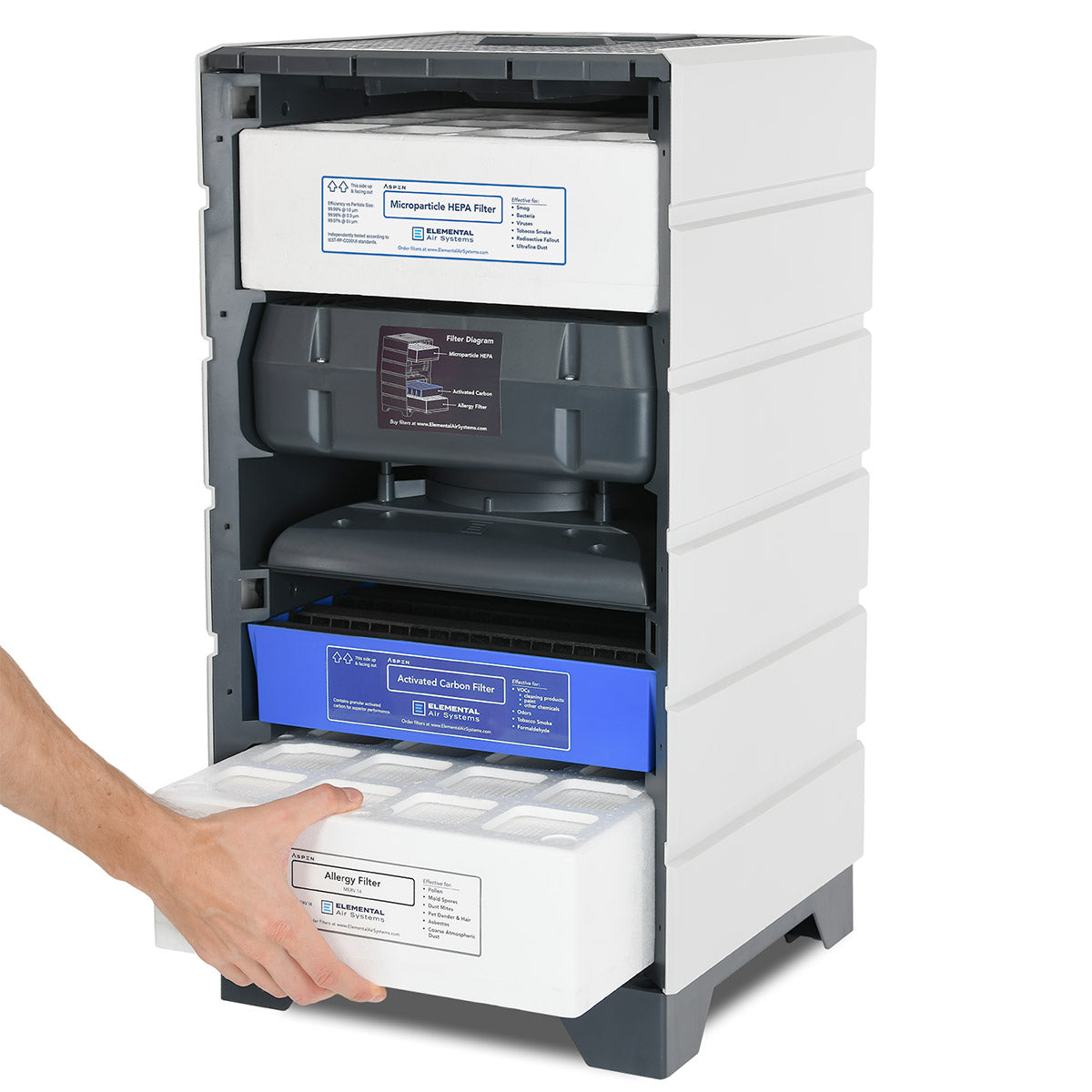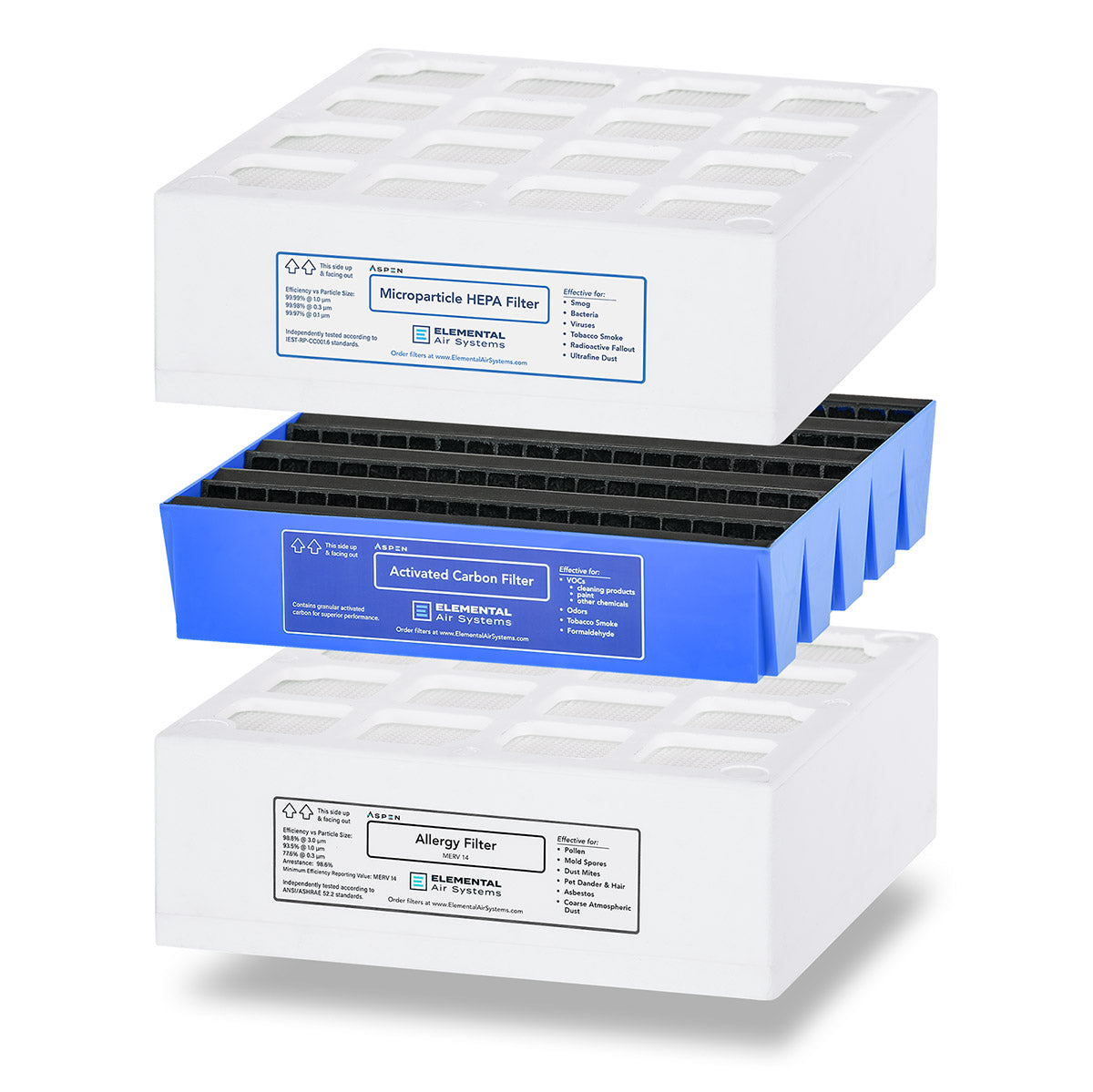 *Note: If you just purchased an Aspen and wish to subscribe to air filters but don't want the first set of filters yet, please select "Wait 1 year before receiving first filters" above.
Includes all 3 air filters for Aspen:
Save time, save money, and get protection by subscribing to automatic air filter delivery.  You get 10% off air filters and warranty coverage on your Aspen air purifier for 10 years!

You'll receive a set of all 3 air filters every 12 months automatically so you never have to worry about ordering them.  Your air purifier is covered under warranty for 10 years from the date of purchase with your active subscription to air filters.
It's recommended that you replace the air filters every 12 months for optimal performance and healthy air.
Allergy Filter:
Designed as the first stage filter for Aspen, this MERV 14 filter removes allergy and and asthma causing particles including dust, pollen, pet dander, mold spores, dust mite droppings, asbestos, fiberglass insulation, sneeze droplets, and other PM10 and PM2.5 pollutants so you can breathe truly clean air.
Independently tested to ASHRAE 52.2 standards:
MERV 14 rated
Removes minimum of 98.8% of particles 3.0 - 10.0 microns
Removes

 

minimum of 

93.5% of particles 1.0 - 3.0 microns

Removes minimum of 77.6

% of particles 0.3 - 1.0 microns
Particles smaller that this are captured by the Microparticle HEPA filter in the unit.
Activated Carbon Filter:
Custom designed for Aspen, this filter contains 3.3lbs of activated carbon with microscopic pores that capture and remove odors, formaldehyde, tobacco smoke, and VOCs from sources like cleaning products, paint, and other chemicals.  These extremely tiny harmful particles get trapped in the microscopic pores inside the activated carbon granules.
Microparticle HEPA Filter:
This hospital grade filter removes particulates down to ultrafine sizes including dust, pollen, pet dander, mold spores, smoke, dust mite droppings, smog, bacteria, viruses, radioactive fallout, asbestos, and other pollutants so you can breathe truly clean air.
Independently tested to IEST-RP-CC001.6 standards:
Removes 99.99% of particles down to 1.0 micron
Removes 99.97% of particles down to 0.1 microns