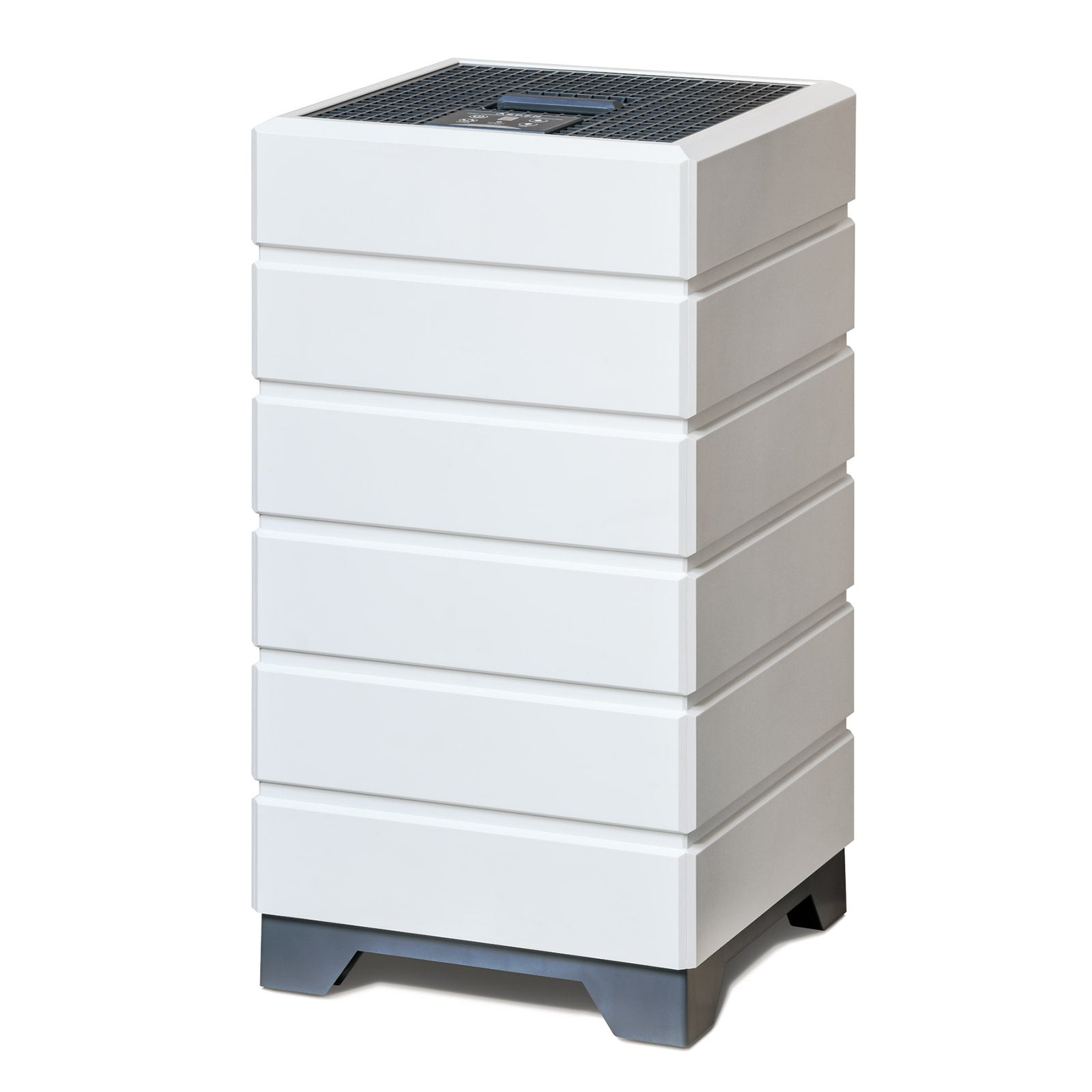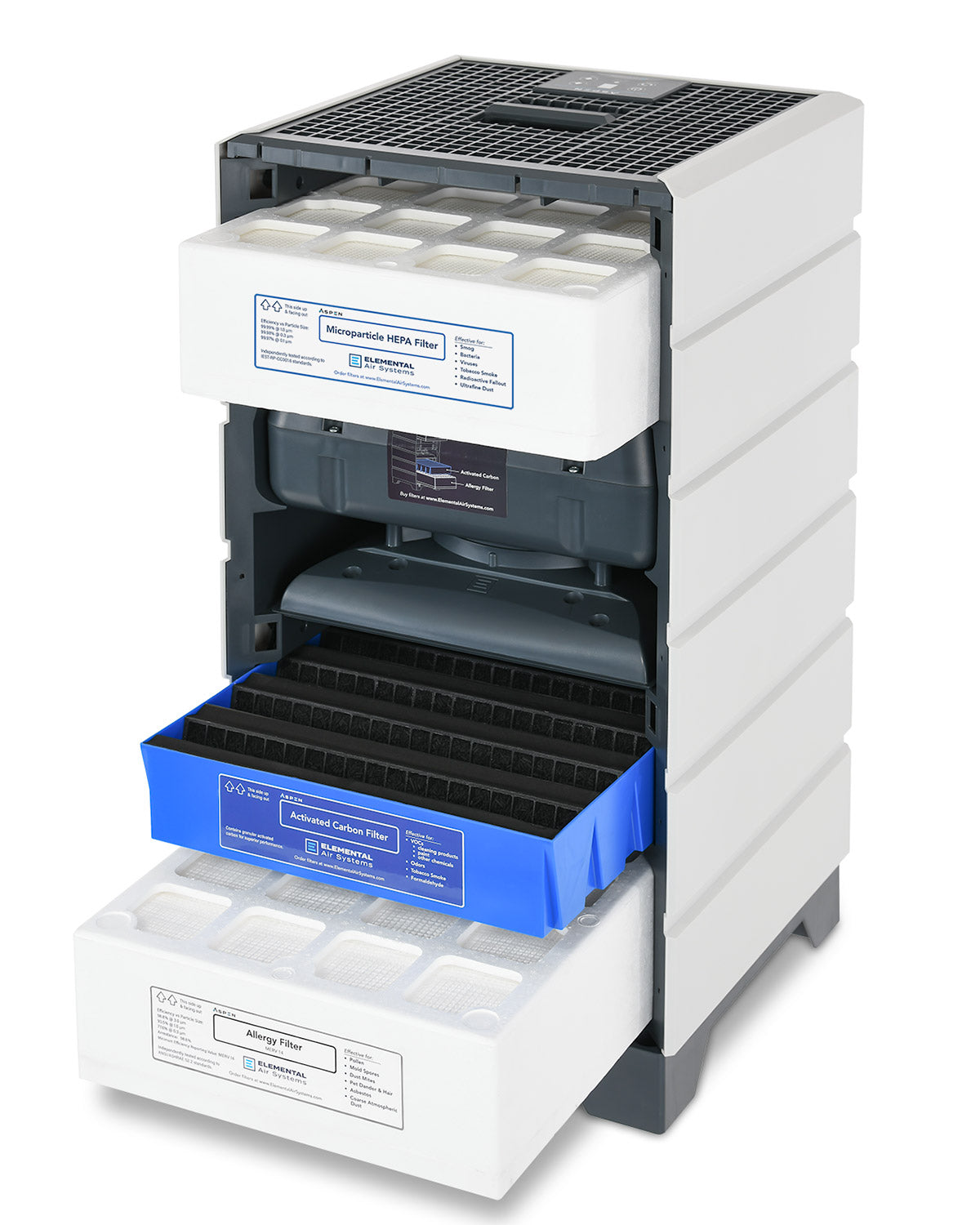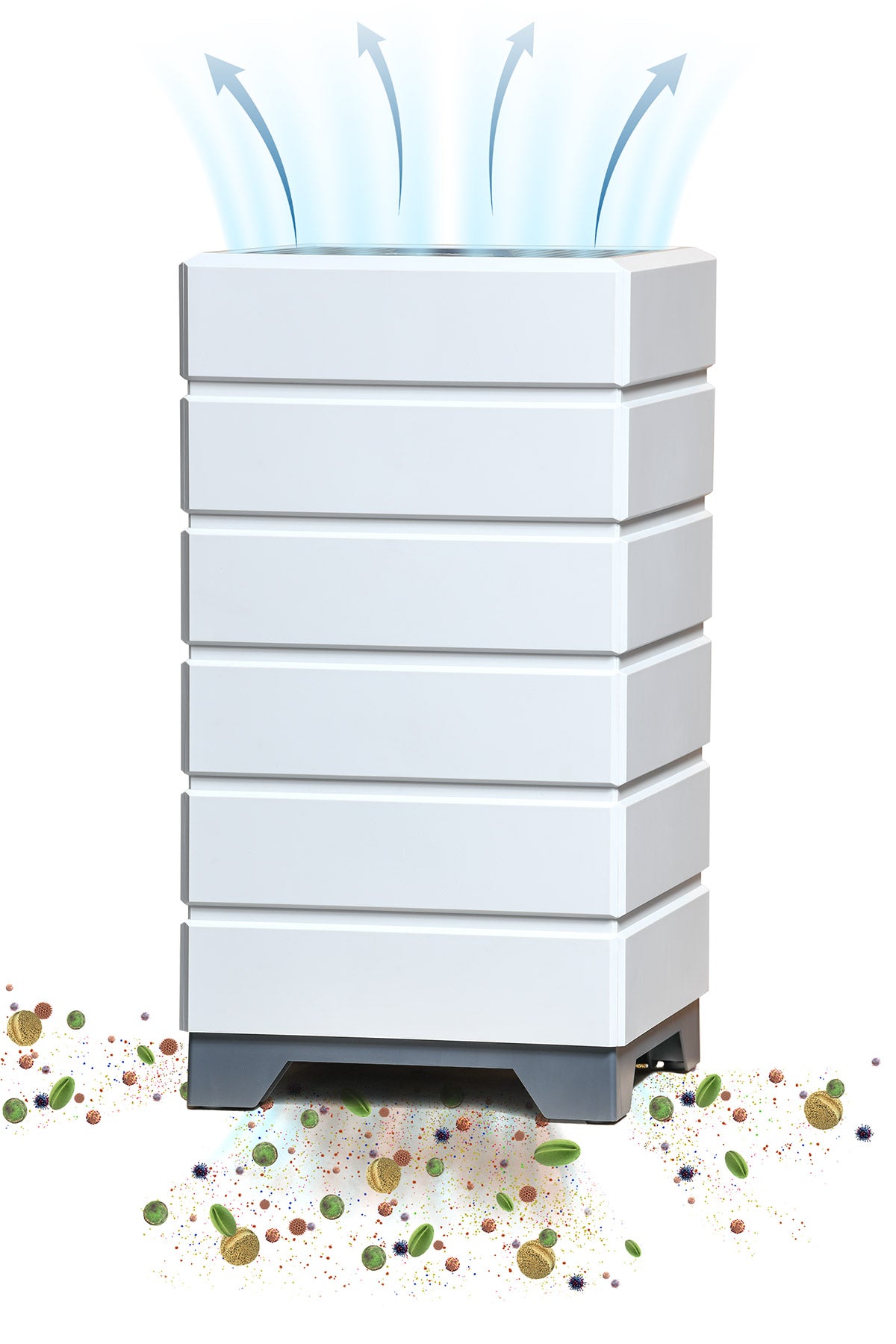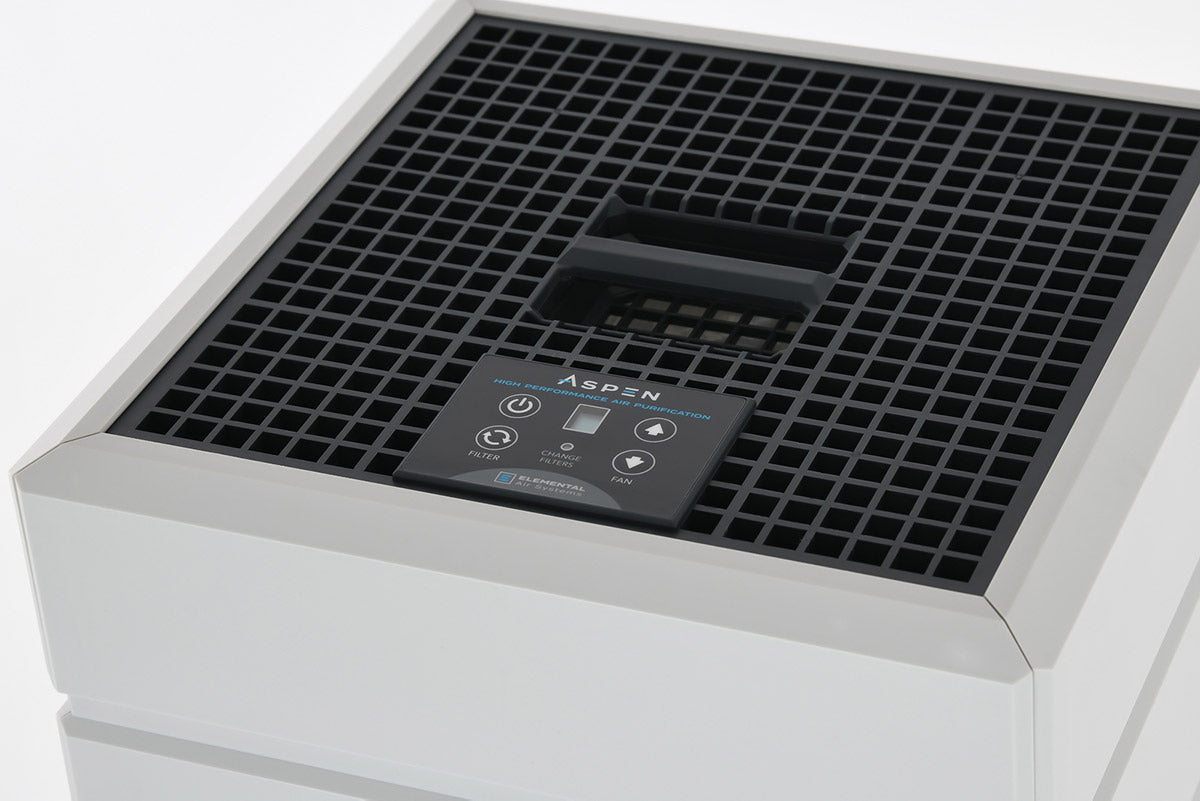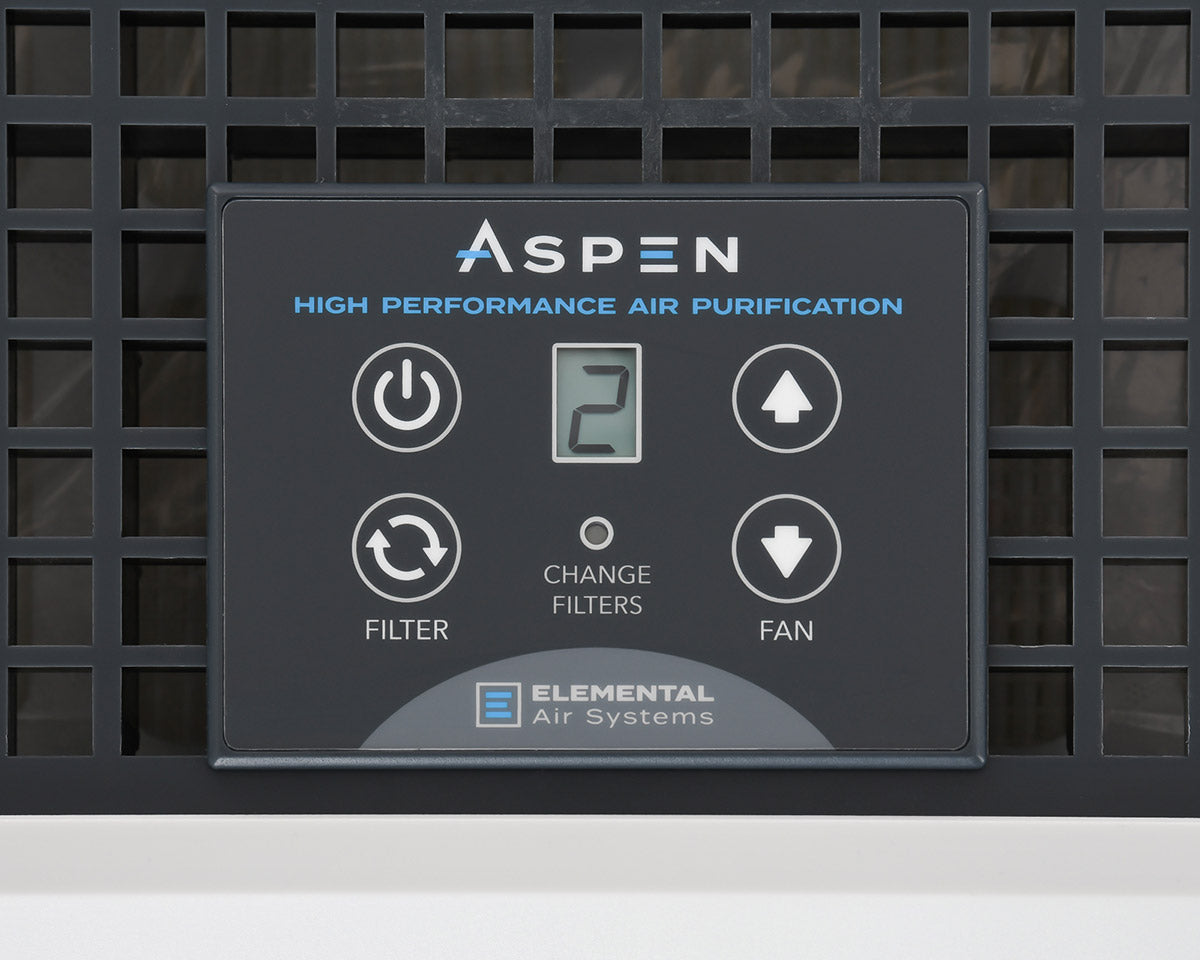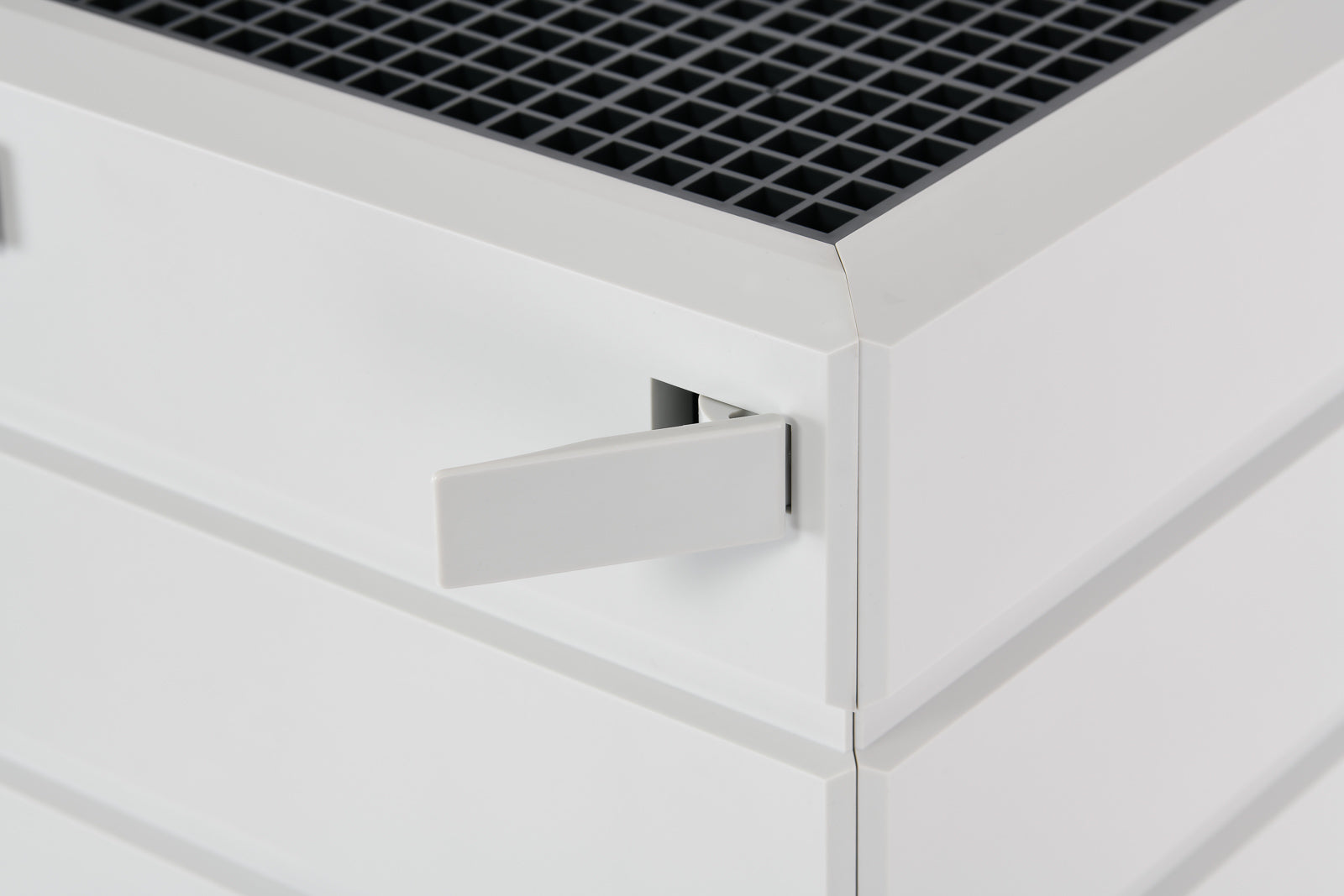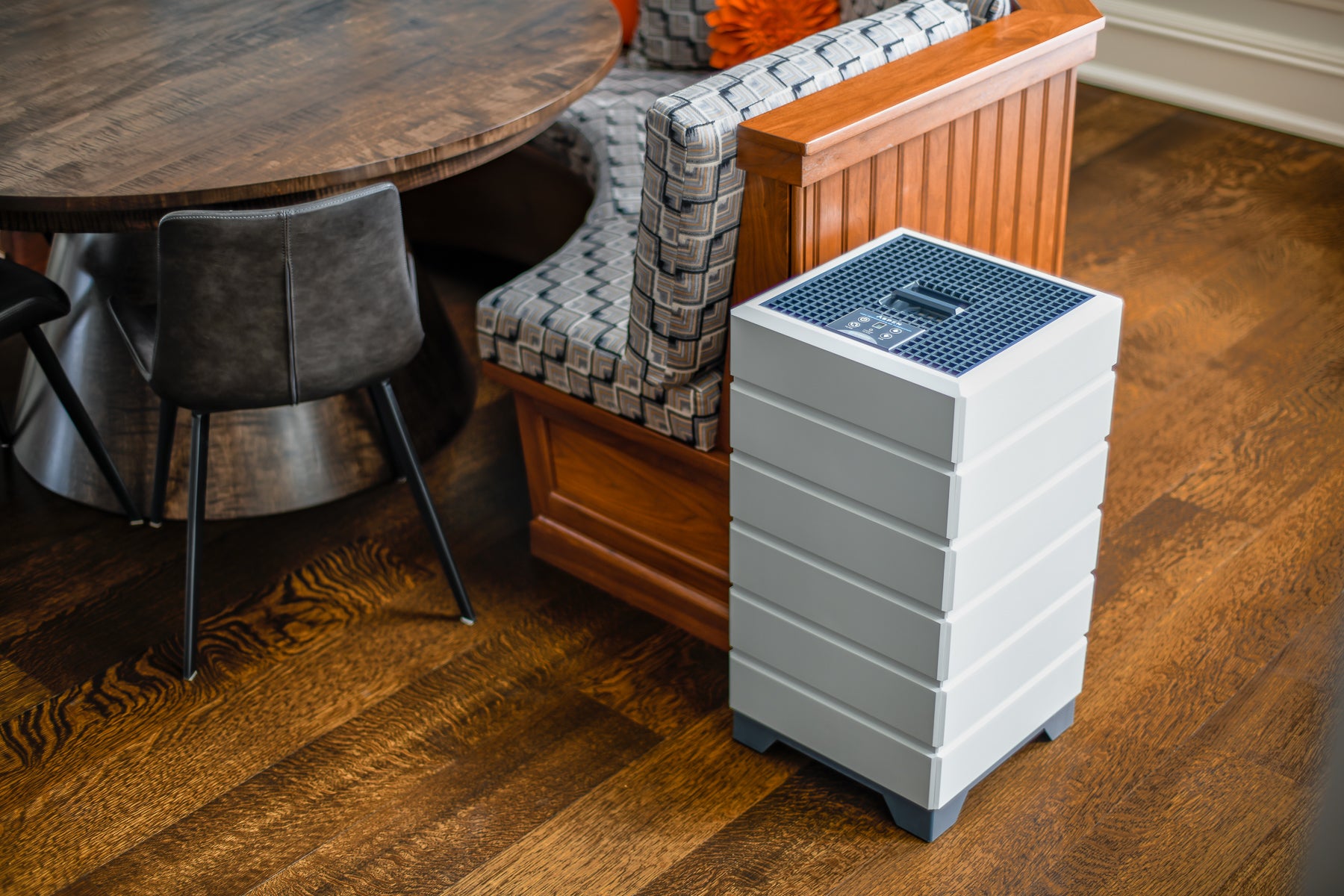 Overview:
Aspen is a high performance air purifier with true HEPA and activated carbon filtration, high airflow, and exceptional efficiency.  It is designed and assembled in America with a quiet and efficient German EC fan motor that uses 85% less electricity than AC fans in most other units.  Aspen is the best choice for asthma and allergy sufferers and those who demand the highest indoor air quality.
Key Features:
3 Stage Air Filtration
Allergy Filter: MERV 14 rated and removes

allergy and asthma causing

 particles

 including dust, pollen, pet dander, mold spores, dust mite droppings, asbestos, fiberglass insulation, sneeze droplets, and other PM10 and PM2.5 pollutants

.  Independently tested according to ASHRAE 52.2 standards.
Activated Carbon Filter: Custom engineered with 3

.3lbs of activated carbon with microscopic pores that capture and remove odors, formaldehyde, tobacco smoke, and VOCs from sources like cleaning products, paint, and other chemicals

.
Microparticle HEPA Filter:  Hospital grade filter removes 99.99% of particles down to 1.0 micron and 99.97% of particles down to 0.1 microns, which includes smoke, bacteria, viruses, smog, radioactive fallout, and ultrafine dust.  Independently tested according to IEST-RP-CC001.6 standards.
Exceptional Efficiency:  A German made EC fan motor moves air using up to 85% less energy* than AC fans in other air purifiers, so you save money and electricity.
High Airflow: 

 

Aspen is capable of moving a high volume of air with an AHAM Verifide Clean Air Delivery Rate (CADR) of

 442

 CFM for pollen and 373 CFM for smoke

.  The airflow pattern distributes the clean air throughout the room better than units that "diffuse" the air in all directions.  Aspen's airflow does not suck the same clean air right back into the unit, which allows it to clean more of the air in the room by creating a more efficient air circulation pattern.
6 Fan Speeds:  Choose between 6 fan speeds from whisper quiet for sleeping to maximum air cleaning performance.
Simple User Interface:  Designed to be easy to use so you can spend less time fumbling with fancy menus and more time enjoying your clean air.  No bluetooth or wifi so you don't have to worry about EMFs or connectivity issues.
100% Safe:  Does not produce harmful ozone or contain dangerous UV lights or ionizers.
Easy Filter Replacement:  A simple design makes changing filters easy and quick.
Covid-19 Effective:  The Covid-19 virus is approximately 0.12 microns. Aspen removes more than 99.97% of particles this size on the first pass through the unit alone.
 * Aspen uses over 85% less electricity than the closest competitor with similar filtration performance at a normal operating airflow of 100 CFM.
Never miss a filter change with a subscription to Aspen air filters.  As long as you're subscribed to air filters you never have to worry about remembering to order air filters, you save 10% on filters, and your Aspen is covered under our limited warranty for 10 years!
Specifications:
Filtration technology:  HEPA, activated carbon, mechanical filtration
Allergy filter rating:  MERV 14
Activated Carbon filter:  contains 3.3lbs granular activated carbon
Microparticle HEPA filter efficiency:  >99.97% @ 0.1µm, >99.98% @ 0.002µm
Airflow (per fan speed):  340, 250, 180, 150, 90, 50 CFM
CADR Pollen:  442 CFM
CADR Dust:  383 CFM
CADR Smoke:  373 CFM
Power (per fan speed):  147, 64, 32, 21, 10, 4 watts
Efficiency max:  10.84 CFM/watt
Coverage area:  1,500 square feet
WiFi, Bluetooth, EMFs:  none
Size:  15.3" x 15.6" x 28.75"
Weight:  38 lbs
Cord length:  10 feet
Warranty: 2 year standard or 10 year with filter subscription